Since the Zumio made it's appearance, tips have been taking off. And here is what you need to know about what they are, if you want to try and where they go!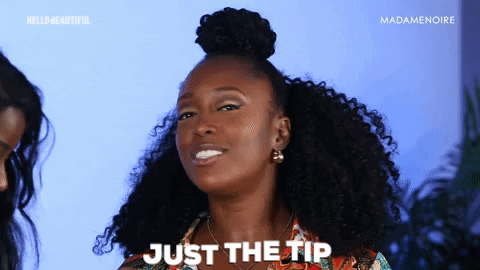 The benefit they offer is direct stimulation to the desired area. In addition to that, they typically have a larger handle allowing you to manipulate it easier. This direct stimulation is great for complicated positions, people with disabilities and other such uses.
What Are Tips?
The tip is handle that has a long thin shaft with a ball at the end, this ball typically has quite a strong vibration for a pinpoint sensation. The handle typically has the controls and will allow for you to manipulate the toy as desired.
Basic Tip Shapes
At the moment the tips typically all have a similar shape, it depends on what type of handle you desire. It also depends on how long you want the shaft leading to the tip. These are the main differences when it comes to tip toys at the moment.
Where Tips Go
You can use the tip for the clit, it's meant to literally stimulate the clit. However, you can use it wherever you would like. I certainly suggest it, it's fantastic for erogenous zones and other places. You create a high intensity of sensation and allows for you to indulge in your pleasure.
Drag around the body, behind the ears or knees… Along the labia, tease the anus, run it along the scrotum.
How To Use Tips
Turn it on the level you like, and then you can place it directly onto the clitoris. However if you want to explore or don't want direct stimulation, you can place it on inside or outside of the labia. I would also suggest tracing it down the perineum, because of the intensity you don't need to apply pressure.
You can situate it where you want and increase or decrease the intensity, if you want to apply pressure you can, but it's typically not required. Which makes it great for people who are disabled or struggle with their body.
What Materials Tips Are Made Of
Because of the type of toy it is, it can be made out of ABS plastic or silicone. It depends on the company.
There are some materials that you want to avoid. You want to avoid these materials because they aren't body safe. What do I mean by this? It means that these materials are porous and can easily trap bacteria and wreak havoc on your genitals.
The materials you want to avoid are: Jelly, PVC, toys containing Phthalates. The toys made of Jelly or PVC are porous and can trap bacteria. Phthalates have been known to cause a myriad of problems that you don't want.
What Lubes Are Best For Tips?
If the tip is made out of silicone, then you want use water-based lubricant. If the tip is ABS plastic, then you can use hybrid, water-based or silicone lube.
Lubricant Recommendations
How To Clean Tips
If the tip is water-proof, you don't have to worry about the battery area. If your tip vibe isn't water-proof, then you want to avoid the control area.
Rinse off any residue that may be on the shaft.
Soap up the shaft of the vibrator.
Rinse off the soap.
Repeat if needed.
Air dry or pat dry, it's your choice!
Tip Recommendations
Always Uncensor Your Pleasure
Side Note: Links attached are from my store or an affiliate, which helps support my site. These opinions are 100% truthful and mine. I only recommend what I believe in.