Much like Elasti Girl in the Incredibles, this toy can move whatever way you want. Find out in our Ultimate Guide To Elastic Joy by Satisfyer, below.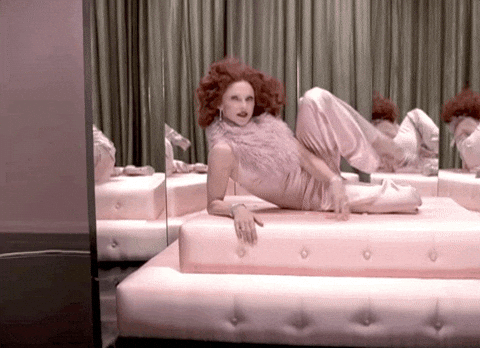 Toy Basics
Rechargeable: Of course it is!
Charge: You have 1.5 hours to a full charge – play time is unknown but estimated to be about 60 minutes.
The light will blink indicating the toy is charging – once it's done blinking it's done charging.
Waterproof: Ooooo Yea!
Lube: Water-Based- the toy is covered in a body safe silicone.
Motors: 2
Intensity Levels: 3
Vibration Patterns: 7
Travel Lock: No it doesn't.
Warranty: Yep, 15 year limited warranty.
Toy Instructions
Charge Elastic Joy
Just connect the magnets to the two dots on the back of the toy and let er charge.
Turn On Elastic Joy
Hold down the 2 dots button for 2-3 seconds to turn Elastic Joy on.
Switch Motors On Elastic Joy
Press the single dot and Elastic Joy will go down to one motor, this motor is the one that has the buttons. Click the 2 dots and both motors will become active again.
Change Vibration Intensity
To change the vibration on Elastic Joy, you want to click (do NOT hold down) the 2 dots. Use the single dot to go down in intensity.
Change The Vibration Pattern
Once you've gone through all the vibration intensities, you'll get the vibration patterns. Use the single dot to go back down in pattern/intensity.
Turn Off Elastic Joy
To turn off Elastic Joy, hold down the 2 dots for 2-3 seconds.
Ways To Use Elastic Joy
This toy has options! You can use it as a cock ring.
Ways To Use Elastic Joy
Explore! Don't be afraid to bend Elastic Joy the way YOU want!
Ways To Use Elastic Joy
Ways To Use Elastic Joy
Cleaning
It's water-proof so get it in there and really let it sparkle and shine!

Rinse off residue.

Soap it up.

Rinse it off.

Repeat as needed.


Air dry or pat dry!
Recommended Lubricant
Check out 'Ultimate Sex Toy Guides'
You may also be interested in 'Ultimate Guide To Rabbit Vibrators'
Always Uncensor Your Pleasure
Side Note: Links attached are from my store or an affiliate, which helps support my site. These opinions are 100% truthful and mine. I only recommend what I believe in.