It takes two to tango and with this partner you're guaranteed to have a good time.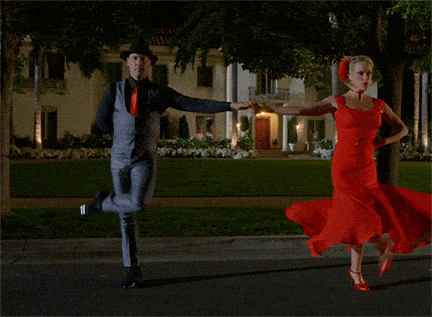 The Tango by WeVibe is a strong bullet and boy can it go! It's a strong bullet that you can have some fun with! So here's everything that you need to know to make your best orgasmic dreams come true.
Toy Basics

Rechargeable: Yes it is!

Charge: Charge it for 90 mins and you'll get 2 hours of play time.

The light will blink indicating the toy is charging – once it's done blinking it's done charging.

Waterproof: Yes it is – tango anywhere! The shower, the ocean anywhere you want to find bliss.

Lube: WeVibe recommends water-based lube.

However this toy is made of body safe PC ABS, the end with the button is made of silicone. Because of this I do feel it's safe to use hybrid or silicone lube but do not get it on the button where the toy is.

Motors: 1

Intensity Levels: low, medium and high with 5 vibration patterns.

Travel Lock: No

Clean: easy! Rinse off – soap up – rinse off – air or pat dry.

Warranty: 1 year! And get it! Anything can happen and if they offer you an opportunity to get a warranty – do it!

Toy Instructions
Connect The Charger:
Charging It:
Turn It On:
Change Intensity:
Turn It Off:
Placement:
Side view
Using The Toy
Now that you know how to operate the toy let's go over how to use the Tango by WeVibe!

This is toy is a bullet so there's a lot you can do with it!
You can trace the bullet over the nipples, over the clavicle, ignite those erogenous zones. The buzzing on the body is a great way to arouse you or your partner.
Run it along the sole of the foot, down the legs in a slow sensual way. Don't be afraid to play around with the vibration patterns, their great for foreplay and arousing you or your partner.
When going down on her, you can use the bullet. Place the toy on the clit as you go down on your partner.
Side note: Because this toy doesn't have a flared end and is small do NOT insert into any orifices such as the anus or the vagina.
Don't be afraid to use the bullet on the labia! You have an entire vagina to play with, you can safely rim the anus so long you don't insert the toy. You can really explore with it, the only limit is your imagination.
Bring your hand jobs to a whole new vibe. You can place the bullet between your fingers to make your hand job ultra fun.
Trace the bullet around the balls, maybe using a vibration pattern, I recommend starting on a low vibe to see how your partner reacts. Then trace the bullet up the shaft, circling the head, really just have fun with it.
The goal is pleasure, so find yours or your partners.
Place the bullet on the perineum as you can go down on your partner.
Boost your blow job by putting the bullet beside your mouth as you go down on your partner, making your mouth vibrate.
Slip it on your hand vibrating the clit when having sex in positions like
Use it on the clit with a lot of sex positions, such as, doggy, missionary, laying down. What's great is the bullet is small so you can use it in a variety of positions.
Pack it for on-the-go for when you just need that little extra to push you over the edge.
Lube
So this toy is made of PC ABS, the button that control the toy is at the end and that is covered in silicone. Because of this the website recommends water-based lube, however I feel you can use alternates so long you're careful.

Hybrid which is a mix of water-based and silicone is a great option, so long you don't get the end covered you'll be fine.

Silicone is great and if you want to take this toy to the water you should be fine to do that. Like I said before just don't cover the button in silicone lube. Silicone eats silicone.
Recommendations:
Cleaning:
Use warm water to rinse off any residue, since its water-proof you can submerge it.

Soap up and really make sure the toy is clean.
Use warm water to rinse off the soap.
Air dry on towel or pat dry – your choice!
Always Uncensor Your Pleasure.
Side Note: Links attached are from my store or an affiliate, which helps support my site. These opinions are 100% truthful and mine. I only recommend what I believe in.