Massagers, what are they? How do Massagers work? How do I use a massager? All these questions and more answered below! Here is the ultimate guide to Massagers also known as Wands.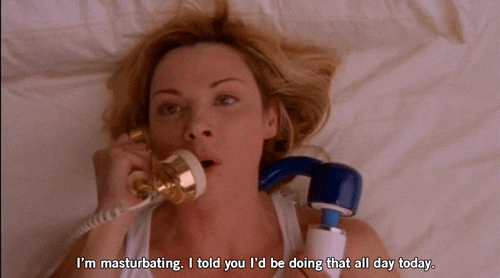 What Are Massagers?
Massagers, also known as wands are toys that have a long handle with a head that vibrates. You can have an array of sizes and some massagers are even waterproof!
Massagers came about as a way to vibrate the kinks in muscles, and when the vibration was felt.. Well other ideas were thought of and tested! The most popular massager being the Magic Wand.
Funny enough, the original magic wand was sold by the company who made it years later and bought out by a sex friendly company. To this day, while it's the original, many have come out since.
What Are Massagers Made Of?
Massagers can be made out of quite a few options! And it really depends on the brand you go with.
Some wands are fully covered in silicone, from the handle to the head it's one smooth silicone covering. It's brilliant, I love it! The Mini Halo from VooDoo does a fully covered smaller wand that I adore. These are typically smaller wands.
Next up, you have larger and medium size wands. These wands typically have a plastic handle and the head covering is silicone. Now in some cases it's like a soft abs plastic, and can be textured.
Is there a certain one to go to? Nope, it comes down to power! How much power do you want from the wand and do you want it to be cordless or rechargeable.
There are some materials that you want to avoid, though not typically found in wands, but should be known about. You want to avoid these materials because they aren't body safe. What do I mean by this? It means that these materials are porous and can easily trap bacteria and wreak havoc on your genitals.
The materials you want to avoid are: Jelly, PVC, toys containing Phthalates. The toys made of Jelly or PVC are porous and can trap bacteria. Phthalates have been known to cause a myriad of problems that you don't want.
Massager Controls & Strengths?
Massagers typically have straight vibration that can get quite intense and some have patterns. When it comes to wands, a lot have a straight vibration with intensity which is what you want.
When you look at the original magic wand, you have 2 options. These 2 options I have aptly named fuck and holy fuck. Which I appreciate these options, I tend to like more options.
So while I don't mind the massagers that you can click into the levels, I like a little more control. The levels tend to be 1-4 which would be low to high, and every low vs high depends on the massager.
Now the controls I like are the ones that you can increase with a button. The plus and minus sign is my favorite option. I feel as though you have more control, you can get as intense or as mellow as you choose.
The strength definitely varies per wand, but you have a lot options to choose from and I'm confident you can find something you want.
Where Do Massagers Go?
A massager is meant to vibrate out the kinks. You can literally use it on your muscles and other places. Other places I say? Yes! Like where you ask? Onto the clit!
The massager is great for the clitoris and with a good massage it's a great build up! But what makes the massager such a great toy? It has attachments, these attachments such as a vibrator shaped tip have a large base that slips over the head of the massager.
So you can convert the massager into whatever you want it to be. What makes this toy great is it's literally perfect for solo play or by yourself.
How To Use A Massager?
If you want to use the massager sexually, place it on your erogenous zones! Put it on the lower settings and boost it up as you or your partner desire.
However if you get a little more technical, then you can place the head of the massager onto the clit. You can place it directly onto the clit or on the labia where the clit is. Why place it against the labia? This is indirect stimulation which is a fun option if you feel your clitoris is too sensitive.
How To Clean A Massager?
Because most massagers aren't waterproof… I suggest rinsing off the head of the massager and focusing on that part, avoiding the handle. Which is easy to do as the neck of the massager is slim enough to help you focus on the head.
Rinse off any residue that may be on the head.
Soap up the head of the massager.
Rinse off the soap.
Repeat if needed.
Air dry or pat dry, it's your choice!
Massagers are great for clitoral stimulant, but are also super versatile. You can use them for a variety of stimulation on the body, from a relaxing massage to pleasure. Anybody and everybody can use the massager, it's also very discreet which makes it a great addition to your bed time collection.
Massager Recommendations
Lubricant Recommendations
Check out other Ultimate Guides
Also check out "Ultimate Guides To Tips'
Always Uncensor Your Pleasure
Side Note: Links attached are from my store or an affiliate, which helps support my site. These opinions are 100% truthful and mine. I only recommend what I believe in.