Vibrators can range from a few dollars to a few hundred dollars but they all have the same purpose – to help you climax. Choosing a vibrator can be a daunting task, and if you're on a budget then you really want to get the biggest bang for your buck. No pun intended, so we'll have options for every budget!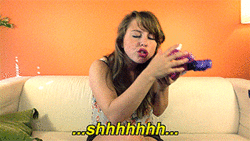 Here are some tips to picking the best vibrator for you!
Now when I'm talking about vibrators I'm not talking about vibrating dildo's or rabbits. (To clarify it rabbits have a clitoral piece for clitoral stimulation up towards the base of the shaft of the toy.) We're going to be talking about external and internal vibrators!
Does this mean that rabbit vibrators aren't vibrators? Not at all, they just aren't the type were discussing today.
Difference Between A Bullet Vibe And A Vibe?
Bullet: A bullet vibe is a small vibe the size of the average pinky typically. It's only meant for external stimulation.
Vibrator: A regular vibrator is larger, about 5-6 inches and can be used for both external and internal stimulation.
Vibin Tips
Tip 1: Do NOT insert your vibrator or bullet vibrator into your anus.
In order to insert a toy into the anus it needs to have some sort of stopper like a flared end, you can even insert a rabbit vibrator into your anus safely. A straight vibrator doesn't flare out and will get sucked into your anus and you'll end up in the hospital with a horrifyingly funny story.
Tip 2: Don't be afraid to explore.
While you can't insert the vibrator into your anus you can rim your anus with it. Ignite the senses, trace it down the sides of labia or the base of the shaft. Drag it around the nipples, trace it from the ear down the jaw line. Use it in conjunction with another toy. put it against your cheek as you go down on your partner.
Tip 3: Surprise your partner with some good vibes oral.
As fantastic as toys are to use by yourself their also fun to explore with your partner. Place it on your partners clit as your go down on them, rest it against the balls as you stimulate their shaft. You can also press it against the rim of the anus as you tantalize their other parts. Don't be afraid to trace it behind their knees, the soles of their feet, down their thighs. Explore your partners body.
What To Look For In A Vibe and Bullet Vibe.
Tip 1: Buzzy or Rumbly, what vibration type do you want?
Vibrations typically come with a certain type of feel, when it's rumbly it's more like sitting on top of a dryer. When it's a buzzy type vibration it's like bees in a canister. You want to figure out what you like more! Once you know what type of vibration you enjoy it will help you in your hunt for the perfect orgasmic vibration.
Tip 2: To pattern or not to pattern?
Some vibrators (bullet and regular) come with vibration patterns. This could be the vibration pulsing, or going from low to high. I personally am not a fan of vibration patterns, I never use the vibration patterns really… I do think that they are great to tease yourself with or your partner with if you enjoy that. For me personally, it's all about the low, medium and high straight vibration. However if you are into patterns, that's totally fine! You can find a lot of bullet vibes and vibrators with patterns. Its more common for them to have vibration patterns that to not.
Tip 3: Discover your shape.
Bullet vibes come in so many shapes and forms! Bullets can be rounded, they can have a lipstick shape so you can use a more pinpoint precision. They can be round all around or square, there's quite the variety. The question you want to ask yourself is, do I want pin point stimulation or do I want a wider surface area to cover more area.
The same goes with regular vibrators. You can have a tip at the end that turns up slightly to stimulate the g-spot. Or it can be ribbed for your pleasure. It can taper or twist, so it comes down to what you're interested in for both external and internal stimulation. Don't be afraid to take a risk and try something new, even if it doesn't end up being your favorite toy, it can always be incorporated into your future sex life as you expand and grow.
Tip 4: Battery or Rechargeable?
Which is better for your vibe or bullet vibe? The truth is that there is no way to pick. Typically I prefer rechargeable toys.. However, some of my favorite vibrators are battery operated and I adoreee them! So it really comes down to what you want, what makes you feel comfortable and your circumstances! If you are worried about finding a place to charge your toy or having it turn on when you don't want it to, then you might want to go with a battery operated option. If you don't keep batteries in the house and don't want to worry about buying them, then go with rechargeable.
Tip 5: Waterproof or Splash Proof?
When looking at toy you probably want all the bells and whistles even if you don't use em all. So does it matter if your toy is waterproof? Honestly, it depends. If you like to do a lot of things in the water, then yes of course get a waterproof toy! But if you aren't doing a lot in the shower or water… then I wouldn't make it a priority.
What does it mean when it says splash proof? Well splash proof means more, light water from the shower… Do I trust a toy that says splash proof to be splash proof? Yes and no, I don't like to use them in the shower, but I do feel more comfortable washing the toys. The reason being I just worry about how much water is too much… so I can get the toy perfectly clean but I don't put my splash proof toys by anything more than a faucet.
So the choice really is down to you and what you want to do regarding waterproof or splash proof.
Tip 6: Material.
ABS plastic, silicone.. Jelly? What's the best material for your toy? The material that I recommend is silicone or ABS plastic or a combination of the two. As you see I mentioned Jelly, while it does have a very different feel, it can also rip easily and create tiny cracks in it's skin. The reason this is bad is because it makes it hard to clean and can hold bacteria inside it, this can create infections.
So why choose silicone, abs plastic or the combination?? Because they're easy to clean, you don't have to worry about cracks in the skin of the toy! Now there are a variety of other safe materials out there to use, but when it comes to bullet vibes and vibrators, this is what you're most likely to come across.
The benefits to ABS plastic is that you can use any lube with it. So you can use that silicone lube and be just fine. Silicone however is silky and smooth, it's got some give and is a little softer, but you need to use water based lube. Whatever material you choose, just know that you need to pick water based lube for silicone and whatever lube you want for ABS plastic.
So consider the shape you want, choose your size and the rest is easy peasy! Enjoy your toy and explore with your body, you want to make sure that you try as much as possible with your toy so you can learn what you want!
The only way to figure out what you do and don't want from a toy is to try em! So here are some of my favorites that you might love as well!
Vibrator Recommendations
Bullet Vibrator Recommendations
Also check out 'Ultimate Guide To Bullet Vibes'
You may also like 'Ultimate Guide To Vibrators'
Always Uncensor Your Pleasure
Side Note: Links attached are from my store or an affiliate, which helps support my site. These opinions are 100% truthful and mine. I only recommend what I believe in.